This was my Opening Drive column from the Winter print issue of Flagstick.  I thought it might be a good idea to reproduce here after Brad Fritsch made his debut as a PGA Tour member yesterday.
—
 A City in His Corner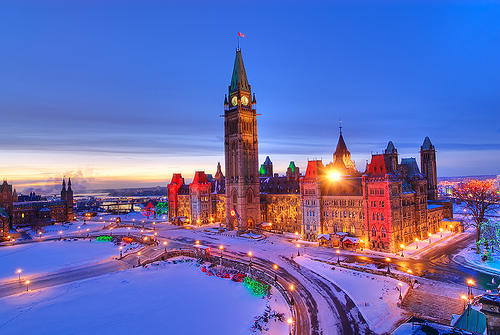 It's been said that it takes a village to raise a child.  A similar thought applies to sport as it often takes an entire golf community to raise a PGA Tour player.
In Ottawa's case, that's Brad Fritsch of Manotick.
As many of you know by now (at least if you are a golfer and have not been living under a rock of late) Fritsch recently became the first golfer from the National Capital Region to earn a full-time spot on the PGA Tour.  He did so by finishing 18th on the Web.com Money list for 2012.
The response to Brad's accomplishment has been the expected one – elation in the city of Ottawa, Eastern Ontario, and throughout Canada.  Following the Web.com Tour Championship Brad was inundated with media requests and his Twitter following blossomed almost overnight from 300 to more than 2000.
Less than a week after securing his PGA Tour card Brad was back in the city that shaped his golf world to celebrate with family and friends.  Nearly 400 people turned up at the Rideau View Country Club. It was a love-in.  Sponsors, fellow members, and even those who knew Brad from his early days at Carleton Golf & Yacht Club down the road embraced the man and the moment.  It was a glorious night.
Having followed and written about Brad since his amateur days (a quick search will find over 3,800 references to him on our website alone) we are equally impressed with accomplishment.  It's nice to see him finally get the attention he deserves for the entire scope of media.
As we head into 2013 and Brad actually starts his PGA Tour campaign lets hope that the consideration of Brad's feat continues.
As Brad knows, membership on the PGA Tour can be a fleeting one, one without guarantees.  With a newly compressed schedule it will be harder for rookies like Brad to get into tournaments. (All players are ranked and given priority access to tournaments based on that ranking).  For those he plays in he will need to make cuts and money to help him get into more events.  That can be tougher than you think. There are a lot of factors that can influence play, both on and off the course.  There are new cities to travel to, bigger crowds, more media, and plenty of other distractions that come with the glamour of the PGA Tour.
Brad is a smart guy; at 35 years old he should be mature enough to handle these types of things.  Harder, though, will be the lack of practice time he gets at the courses that are new to him and tougher than those he faced on the Web.com Tour.  With Monday as travel day and no access to the courses on Wednesday with the Pro-Am taking place, Tuesdays will be his only shot at learning a course.
Given all this, staying on the PGA Tour can be a lot harder than getting there, even if it took 12 years for that to happen, as it did for Brad.  With that in mind we hope those who showed support for him on earning his card continue to do so even when he has some tough outings.
It's easy for people to jump into somebody's corner; it means a lot more if they stay there.  No matter the result.